---
RELATED LINKS: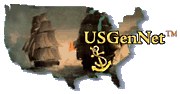 ---
GARY ALLEN LULL April 10, 1940- April 18, 2010

SPECIAL NOTE FROM WEBMASTER/SON -Robin:
As I grieve the loss of my father, I (Robin) hope that these
pages can be referred to by family, friends, and others
in order to aid them on their quest when seeking their roots.
Dad's life-long passion for genealogy has yielded much success,
and I want to express my gratitude to everyone who
has shown interest in our efforts here and in his efforts over the years...

We did what we could in the little time we had.
Harry Chapin's song, "Cat's In The Cradle" was
truly the story of our lives, we never had enough time.
So with a huge aching hole in my heart, I quote and link it here,
as it was a seriously strong theme in our lives.
"When I'm coming home Dad, I don't know when,
but we'll get together then, Dad
you know we'll have a good time then..."
See you on the other side Pop.
XOXOXOXOXO
-R-


Pictures of Robin and Gary taken outside of Robin's office at Dartmouth College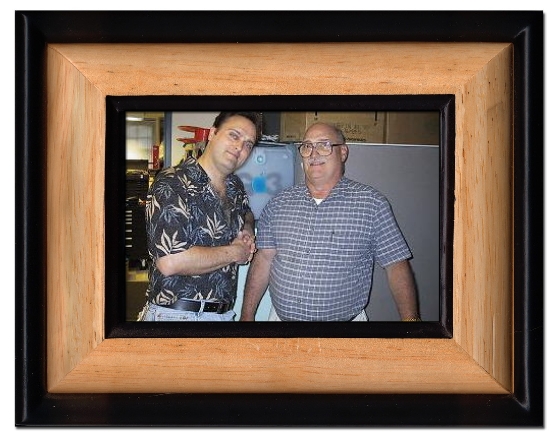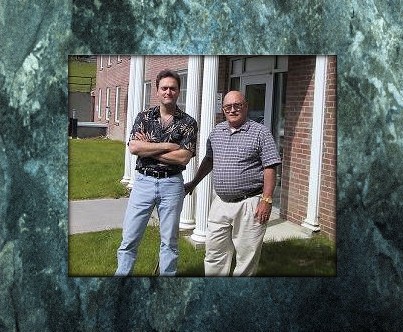 PORTIONS OF GARY'S OBITUARY
(and additions/updates by Robin):
Mr. Lull passed away Sunday, April 18th 2010 at his home.
He was born in Olympia, Washington on April 10, 1940
the son of the late Norman and Esther Lull.
A veteran of the US Army and retired mechanical engineer,
Mr. Lull enjoyed security and established a neighborhood watch
to ensure the protection of his family.
(Robin started the unofficial version of the watch
while visiting in Charlotte for a few months when he was 19,
which prompted Gary to continue and legitimize it the following year,
and continued on until his final days)
He spent his days researching family history and genealogy,
as well as caring for his furry friends; Pepper, Gizmo, Spot, Sally and Bud.
A service to celebrate his life was held at 11:00 am, Thursday, April 22nd
at Bethel Baptist Church 4801 Tuckaseegee Road,
Charlotte, NC with Pastor LJ Mills officiating.
The family received friends one hour prior to the service.
Interment followed at Frederick Memorial Gardens
on Highway 11, Gaffney, SC.
At the time of his death, He was survived by
his loving wife of 31 years- Bonita Lull
brother- Stanley Lull (wife, Sally)
nephew- Marcus Lull
son- Robin Lull (wife, Lori)
daughters- Joan Cavendar (husband, Rocky)
and Christina Clark (husband, Scott)
stepson- Robert Bailey (wife, Sandy)
two grandchildren-
Heather Cavender & Trent Clark
and a host of other family members near and far.
Quoted notes from family and friends last year:
Cats in the cradle by Harry Chapin, Dad..
I miss you so badly. You are in heaven now,
and immortalized on the web forever right here
on the pages we worked on together..
Rest in peace Pop, and I'll see you on the other side.
-your loving son,
Robin Lull,
Weathersfield, Vermont
~
April 22, 2010:
To Bonnie and the Lull Family,
Words cannot express the sympathy and hope
this message brings to you and your family today.
With Caring Thoughts and Prayers.
Peggy and Henry Cybulski
~
April 21, 2010
Christina, Scott & Trent,
may GOD wrap you in HIS loving arms
as I keep you in my prayers for
comfort and peace during this time.
I send you and your entire family my sympathy and love.
Rachel Bumgarner,
Ranlo, North Carolina
~
April 21, 2010
To the Lull Family,
Gary was a good man and meant a lot to us.
He was kind, giving and caring.
He was a wonderful friend to all of us and we will
always remember him. We're with you in thoughts and prayers.
Our love always,
L Anderson & The Anderson Family
Fort Mill, South Carolina
~
April 21, 2010
To The Family Of Gary Allen Lull
My deepest condolences and prayers
are with you in this time of sorrow.
May God comfort you now, and in the days to come.
D. Thompson,
Charlotte, North Carolina



---
Gary's son/webmaster, Robin
Rest in peace Dad,
-R-
---