GARY'S CEMETERY RESEARCH PAGES
All pages copyrighted by Gary A. Lull.
They are free to reproduce and distribute.
Under no circumstances may anyone use these
for commercial purposes.
All images, except those with copyrights
on them due to recent publication,
are in the public domain and can not be copyrighted.
Copyright ©1998 #TX-126-857 by Gary A. Lull
---
Hartland, Vermont
Grave site BIO and STONE DATA!

Weathersfield, Vermont
Grave site BIO and STONE DATA!

Weathersfield, Vermont: Historical Site Link

---
We'd like to give special props and many thanks
to the efforts of Brad Hadley for the following site
which has two links listed as examples:
Hartland, Vermont: Historical Site Link

Hartland, Vermont: Hartland Cemeteries
Brad has done all of us a great service in his approach
to the categorizing of stones data and mapping efforts.
Hats off to Brad!
Gary and Robin Lull, Father&Son team
for Lull Genealogy

---
Introduction to Gary's research: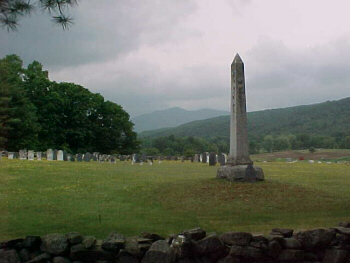 In the latest years Gary has gone beyond just the Genealogy
and History of the family in his 38 years of research at this time,
now focusing on other newer projects that include Cemeteries.
He is trying to archive the Cemetery Stones
with pictures for your enjoyment and information.
A real must in his eyes after finding the condition of the stones
he located which are just about beyond repair altogether,
a few were totally gone, data-wise.
Recently on a trip to Vermont in the year 2000,
he has added to the family name and others as well,
with a fellow researcher named Beverly Lasure.
Together they found other problems of the old
cemetery stones in gathering the information from the stones.
Using the documentation that was available,
they noticed the prior written work which had been done,
was in error.
The error being a required listing of the documentation
of the stones to match the written research data of the
cemetery in question, that had been done earlier.

---
MORE LINKS!

Click this for other Cemeteries and
a Tour of Hartland, Vermont

Ipswich, Ma: Lull History- Fisherman, Planters, etc

History of Ipswich, Essex, and Hamilton

T H E E S S E X A N T I Q U A R I A N
For these Essex County towns:
Newbury, Byfield, and Ipswich
All pages copyrighted by John Slaughter.
They are free to reproduce and distribute.
Under no circumstances may anyone use these
for commercial purposes.
All images, except those with copyrights
on them due to recent publication,
are in the public domain and can not be copyrighted.
Copyright ©2005-'08 by John Slaughter & Jodi Salerno


---
CIVIL WAR PRISONS
Morrisville Civil War Prison Info

---
---
Genealogy Researcher:



GARY ALLEN LULL

Send emails to: