ONLINE PRESSKIT:

Together since 1987, Lori and Robin Lull have been involved
in various musical endeavors, including time spent with
The two New England bands known as 7-RAGE and SPECTRIS.
Now inspired to return to their ballad roots, with renewed vigor,
Lori and Robin will be working towards creating beautiful
and fun music by continuing to explore many of the
styles and artists, new and older, that influence them.
In this new chapter of their music,
they hope to satisfy a broad range of musical tastes
with a fun, heartwarming, intimate and charismatic
approach to their music and their listeners.
The results should be an eclectic range of songs which represents
their spiritual, humanitarian, and conservationist philosophies.
Enjoying some fruits for their efforts in this endeavor,
their song The Inner Voice is now featured on a
CD for a campaign to raise awareness about
drunk driving with:



and


Their song was featured on track 6.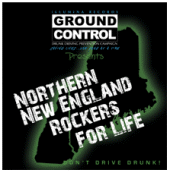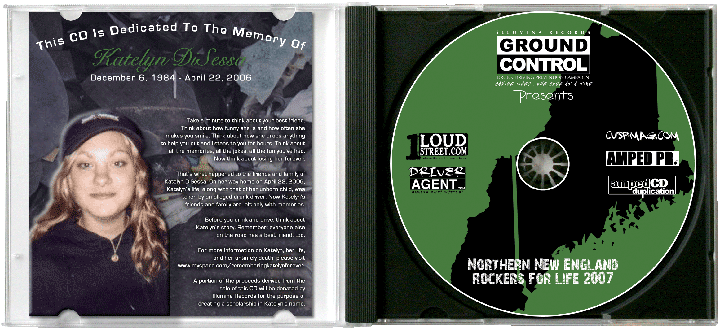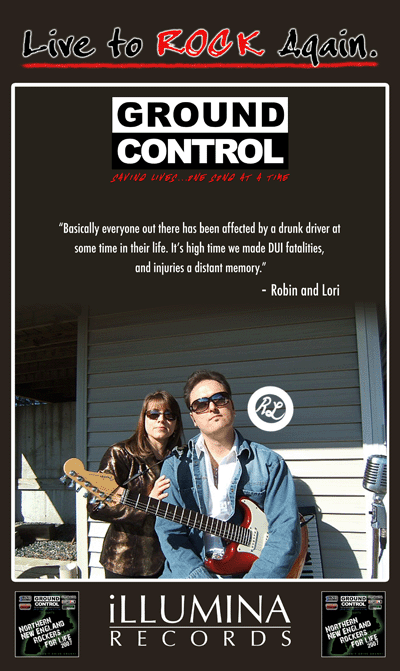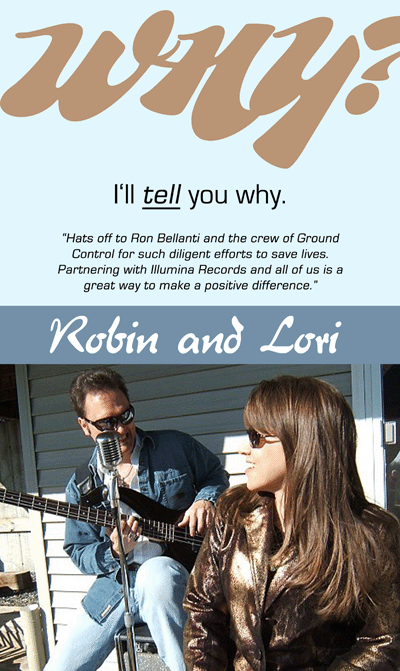 ---
To download a zipped presskit
in word.doc format, please CLICK HERE.


or to request a full printed Press Kit
please send us an email here:
---
SOFT ROCK BALLADEERS-
A PARTIAL SONGLIST for Robin and Lori's HEARTFIRE:
While Performing, Robin and Lori may include some of their original songs
(such as THE INNER VOICE, APPLE BLOSSOMS RETURN,
MUSIC BOX MELODY, HEART OF YOU AND ME,
LUCK AND BLOSSOMS, and CAN WE JUST SAIL AWAY)
and possibly some of the following various covers to name a few:
(You can LISTEN to the ones that are highlighted!!)
| | |
| --- | --- |
| HERE COMES THE FLOOD | Peter Gabriel |
| COOL CHANGE | Litte River Band |
| A SONG FOR YOU | Leon Russell |
| SATELLITE, YOUTH, HOW DO YOU LOVE, RUN | Collective Soul |
| FALLING SLOWLY | Glen Hansard (from the movie- "ONCE") |
| SAIL AWAY (With Me Honey) | David Gray |
| ALL I WANT IS YOU/OCTOBER, MLK, ONE, RUNNING TO STAND STILL, KITE | U2 |
| THE SCIENTIST, TROUBLE, CLOCKS, AMSTERDAM, A RUSH OF BLOOD TO THE HEAD | Coldplay |
| BREATHE, US&THEM, SHINE ON YOU CRAZY DIAMOND | Pink Floyd |
| IT DON'T TAKE LONG, CRUEL AND GENTLE THINGS | Charlie Sexton |
| THE EAGLE AND THE HAWK, LADY | John Denver |
| LET LOVE RULE, BUTTERFLY, CAN WE FIND A REASON | Lenny Kravitz |
| CRAZY, LOST MY FAITH | Seal |
| | |
| THERE'S NO ONE LIKE YOU | Dr. John |
| LOVE ME TENDER | Elvis |
| FAKE PLASTIC TREES | Radiohead |
| CHARIOT | Doyle Bramhall2 |
| GIVE ME LOVE | George Harrison |
| TONIGHT, DON'T LET THE SUN GO DOWN ON ME, LEVON | Elton John |
| WHO WANTS TO LIVE FOREVER, SHOW MUST GO ON. | Queen |
| RIPPLES | Genesis |
| GEORGIA | Ray Charles |
| YOU ARE SO BEAUTIFUL | Billy Preston (popular by Joe Cocker) |
| I CAN SEE CLEARLY NOW | Johnny Nash |
| THE STAIRS | INXS |
| SISTER GOLDEN HAIR, TIN MAN | America |
| | |
| LOVE SONG | The Cure |
| | |
More additions could be:
| | |
| --- | --- |
| SKIN AND BONES | Foo Fighters |
| BLACK BALLOON, NAME, SYMPATHY, | Goo Goo Dolls |
| TAKING IT TO THE STREETS, IT KEEPS YOU RUNNING | The Doobie Brothers |
| MOTHER, DOGS | Pink Floyd |
| I'M ALRIGHT, CONVICTION OF THE HEART, I WOULD DO ANYTHING | Kenny Loggins |
AND many more!...

---

GIGPLACES:
In various incarnations, Robin and Lori have played
at the following establishments and more:

Echo Lake Inn, Ludlow/Tyson, Vt
Hartness House, Springfield, Vt
Collis Common Ground, Dartmouth College/Hanover,NH
Rick's Bar and Grille--Bellows Falls, VT
Moose Hall- Bellows Falls, VT
Old Home Days-Bellows Falls, VT- 2002, 2003, 2004
Middle Earth-Bradford, VT
The Heritage-Charlestown, NH
Charakters-Ludlow, VT
Black Bear Pub-Springfield, VT
Mcgees's-Claremont, NH
Legion Hall- Bellows Falls, VT
Kaptain B's-Musician Showcase-Ascutney, VT
The Skybox, Airport Rd, West Lebanon, NH
Electra-Lebanon NH Q106 Battle of the Bands, **Opened for BADFINGER
Shenanigans, White River Jct, VT
MamaMia's White River Jct, VT
Woody's-Claremont, NH
Green Door Pub-Stratton MTN, VT
Magic MTN Ski Resort-Londonderry, VT Apres Ski
Gusto's-Barre, VT
Newport Opera House-**USO Benefit show-Rockin For The Troops**
Coyote Creek Sports Pub & Grill-Claremont, NH
Firehouse– Keene, NH
Squiddies-Jay Peak Resort Lodge, Jay, VT
Grizzly's-Stratton MTN, VT
Lucky Dog-Newport, VT
Hard Rock Café-Boston, MA**Musician Showcase
Ashley's-Randolph, VT
Cuzzin's-Barre, VT
Nectar's-Burlington, VT
JC's-Bennington, VT
Harley Rendevous– Pattersonville, NY
Harpoon Brewery-Windsor, VT
BeforeTheMusicDies Movie Screening Event:
Filene Auditorium, Moore Hall- Dartmouth College/Hanover, NH
Inky's Cafe in the Hotel Coolidge, WRJ, VT
Route5 Roadhouse- Ascutney, VT
Dartmouth ArtWorks2011 in Alumni Hall at Dartmouth College- Hanover, NH

In addition they play multiple private party events.



---
Come listen to their original tracks
at The official HeartFire Page:


Please also feel free to visit
http://myspace.com/robinandlori
and http://myspace.com/heartfire
for more information and to hear their music.



---